Furoshiki
Ukiyoe Nihonbashi bridge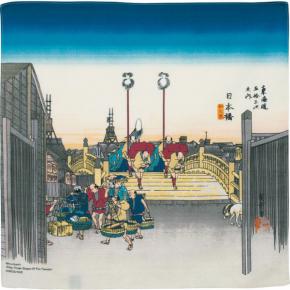 Morning view of Nihonbashi / Utagawa Hiroshige
This is the first in the series "Fifty-three Stages of the Tokaido" It depicts the scene in the morning at Nihonbashi bridge in Edo (Tokyo) period. Even today the bridge still exists in a modern form. Hiroshige is known to have had a marked influence on Western painting.
Dimensions : 48 x 48 cm (18.9″ x 18.9″).
Material : 100% cotton.
Made in Japan.
Gift Wrapping (Lunch Box etc..)
Ukiyoe is one of the traditional arts of Japan. Having a great influence overseas in the late 1900s.
This series of 50cm square patterns is taken from the world of Ukiyoe.
The material can be used as a book cover, small size bottle holder or wrapping to gift.