Furoshiki
Chirimen Tokaido Cats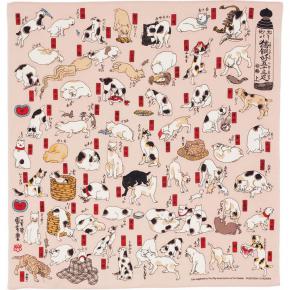 Momenteel niet op voorraad.
Cats showing The Fifty Three Stations Of The Tokaido / Utagawa Kuniyoshi
Kuniyoshi has attracted attention over the past years both at home and abroad includinga major restrospective in Kobe. He was known as a cat-lover. In this work, he not only depicts the Tokaido road but also the cats in caricature.
Dimensions : 68 x 68 cm (26.8″ x 26.8″).
Material : 100% Rayon.
Made in Japan.
Gift Wrapping (Bottle etc..) wall decoration
68 Ukiyo-e Rayon Chirimen Yuzen Dyeing
This serie is a Ukiyoe design for furoshiki "Ukiyoe chirimen yuzen". A piece of plain furoshiki  can change its looks depending on what is being wrapped. It looks like modern art. Japanese and overseas friends can both enjoy Japanse traditional art.
Currently there are two new designs : Kurofuji of HOKUSAI and Cats Suggesting the The Fifty Three Stations Of The Tokaido Line by KUNIYOSHI.
Please enjoy wrapping for example bottles of sake as a souvenir.