Furoshiki
Ukiyoe Great Wave small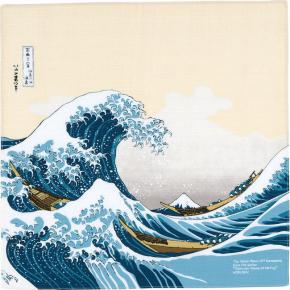 The Great Wave by Hokusai is one of the most iconic works in the Japanese art.The breathtaking composition with the cresting wave and Mt.Fuji express both stillness and movement. The eminent European musician Debussy and artist van Gogh were inspired by this work.
Dimensions : 48 x 48 cm (18.9″ x 18.9″).
Material : 100% cotton.
Made in Japan.
Gift Wrapping (Lunch Box etc..)
Ukiyoe is one of the traditional arts of Japan, having a great influence overseas in the late 1900s.
This serie of 50cm square patterns is taken from the world of Ukiyoe. The material can be used as a book cover, small size bottle holder or wrapping to gift.